Europe's Largest 3D Printed Building to Be a Data Center!
3D printing has gone from strength to strength over the last few years and has been adopted into a myriad of mainstream uses in recent times. One use for 3D printing, albeit not one everyone has heard of yet, is construction: with architecture now able to be built as a result of materials that have been printed.
In Germany, news has broken of plans for Europe's largest 3D printing building – and it's going to be a data center! Set to host cloud computing infrastructure in the city of Heidelberg, it will measure 54m (177ft) long, be 11m (36ft) wide and have a height of 9m (30ft). This will make it the continent's largest structure to be entirely constructed from 3D printed material; although of course, how long that title will last really depends on developments in the sector.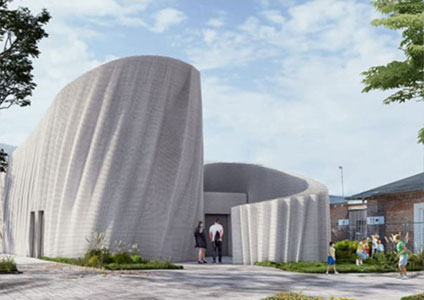 The data center, which doesn't have an official name just yet, will be printed on the COBOD BOD 2 printer which was responsible for the printing of a two-story house in Antwerp back in 2020. Creating the basic shell of the building is estimated to take about 140 hours, with two on-site builders throughout ensuring accuracy and smooth delivery. Much like the process of 3D printers found in homes around the world, it will extrude material in layers following a programmed blueprint: although this will be made of a similar mixture to cement rather than plastic. Once the printing has finished, human contractors will take over the remaining construction tasks including the roof installation, door hanging, and wiring. Aesthetically, the exterior of the building will be wavy and greenery will be incorporated to reinforce its sustainability credentials.
But given that the building will be home to a data center, which is notoriously energy-hungry, just how sustainable can it really be? We've seen an increase recently in sustainability initiatives being implemented around data center operations, but any such set programs have yet to be announced for this building. However, construction leaders Kraus Gruppe have confirmed that the building's 3D printed material will be entirely recyclable for later reuse and that the printing process will result in 55% fewer CO2 emissions than that used in the construction of a standard Portland cement building.
Commissioned by Heidelberg IT Management, the printing is expected to be completed in July 2023 as a collaborative effort between Kraus Grupper, Peri 3D Construction, SSV Architekten, Mense-Korte Ingenieure + Architekten, and DAW.
While this all sounds very impressive, of course, most businesses don't have the resources to 3D print their own data center facilities! There is, however, much that can be done to improve the sustainability of data center operations, including:
Want to learn more about implementing better sustainability measures amongst your data center configuration, no matter its building's construction? Get in touch!